Do you need mass-produced stamped sheet metal products?
Want to shorten the time from product development to serial production?
Is a high level of accuracy and a competitive price important to you?
This segment mainly includes stamping products on eccentric presses using progressive tools.
Based on the requirements, we produce a wide variety of sheet metal products with a thickness of 0.04 – 6 mm, and using a wide variety of materials: steel, stainless steel, brass, copper, aluminium, bronze, etc.
We  take care of the production and maintenance of stamping tools instead of you.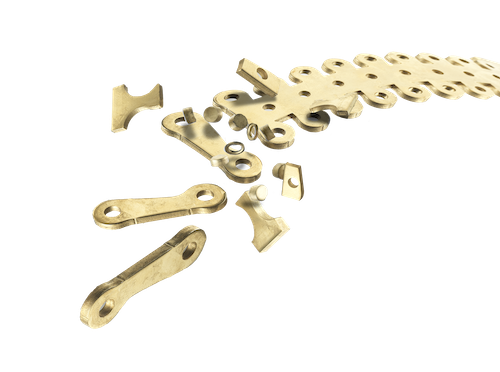 Comprehensive service
DEVELOPMENT COOPERATION AND CONSULTING – COMPUTER SIMULATION
PROTOTYPING – MANUFACTURE OF PRODUCTION TOOLS
SERIAL PRODUCTION
By connecting all the phases, we provide the best technological solutions in terms of time and cost.
In addition to the manufacture of individual products, we offer the manufacture of complex assemblies that include various components and their assembly.
Efficient production processes
Production takes place on state-of-the-art eccentric and hydraulic presses from 6 T to 500 T.
By constantly investing in state-of-the-art equipment, technologies and processes, we meet the needs of customers in a wide variety of industries throughout Europe.
Quality
For us, quality always comes first.
With the acquisition of ISO 9001:2015 certification and the introduction of additional requirements dictated by the automotive industry, our processes and products are subject to the strictest quality review, resulting in very high ratings from our customers.